The temperatures have been really cool here in Texas since Hurricane Ike came storming through the Texas coast destroying all in its path! For the past week or so, the mornings have been in the mid-60's and during the day it's in the mid-80's. IT'S ABSOLUTELY WONDERFUL!!! Perfect weather for the Texas State Fair that's coming up at the end of the month - so hopefully the nice weather will last that long! Usually mother nature teases us with fall-like weather and then once the fair arrives it's back to blistering heat! Since the weather has been nice during the day, I have taken Austin out to enjoy the weather every morning or evening. He loves it!
Austin and I met a friend, Melissa, and her daughter, Maya, at the Cameron Park Zoo in Waco, Tx. It was a hot day at the zoo but we had fun meeting new friends!! Afterwards we went to Luby's and of course dressed the little ones up in matching Zoo t-shirts that we
just had to get
! It was so cute. Austin now has a girlfriend ---although she left him to move to Germany!! :-( Yes everyone, my lil man is ALREADY a "Ladies Man"!!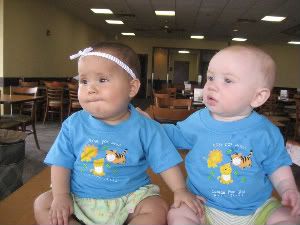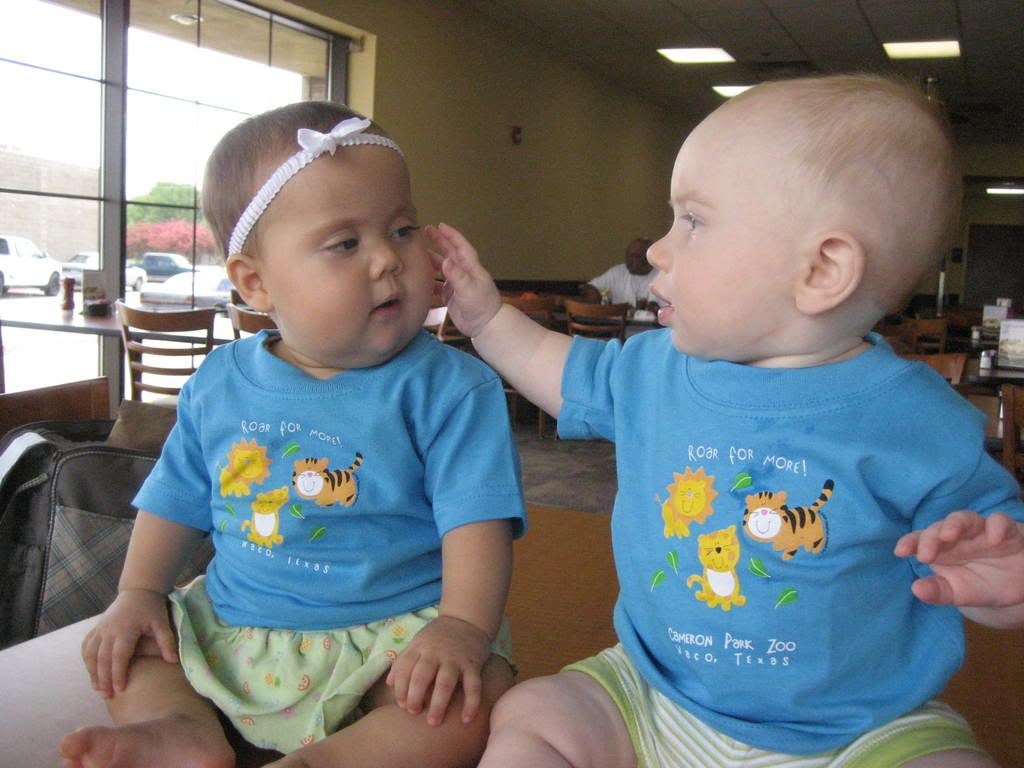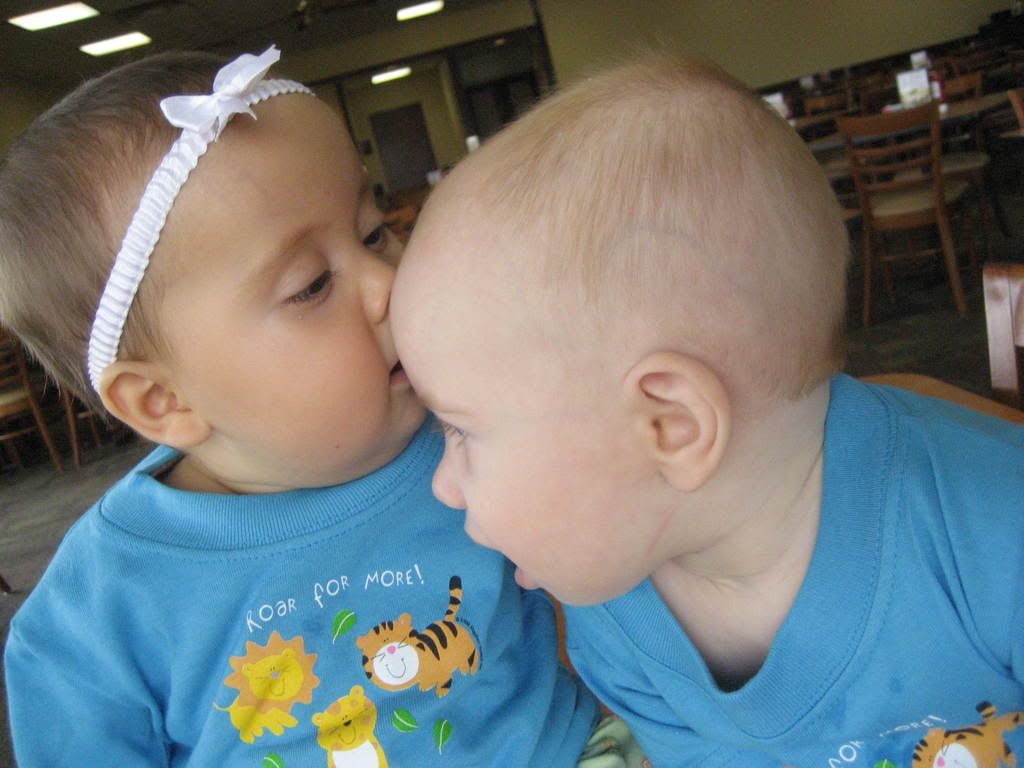 My niece is now 8 months and is getting so big! It's so nice for Austin to have a cousin who's 1) lives so close & 2) is close in age. They are 2 months apart (minus 1 day) and it's great to see them interact and grow up together. She just recently learned how to crawl so she is constantly on the move!! We had her over and she kept on "ramming" Austin down. She also was so preoccupied with crawling that when she got tired and wanted to sit she wasn't aware that she was sitting on Austin!!!
The other day my mom and I were out eating and that is when Austin discovered his lips! He kept pouting his lips out and cracking us up!!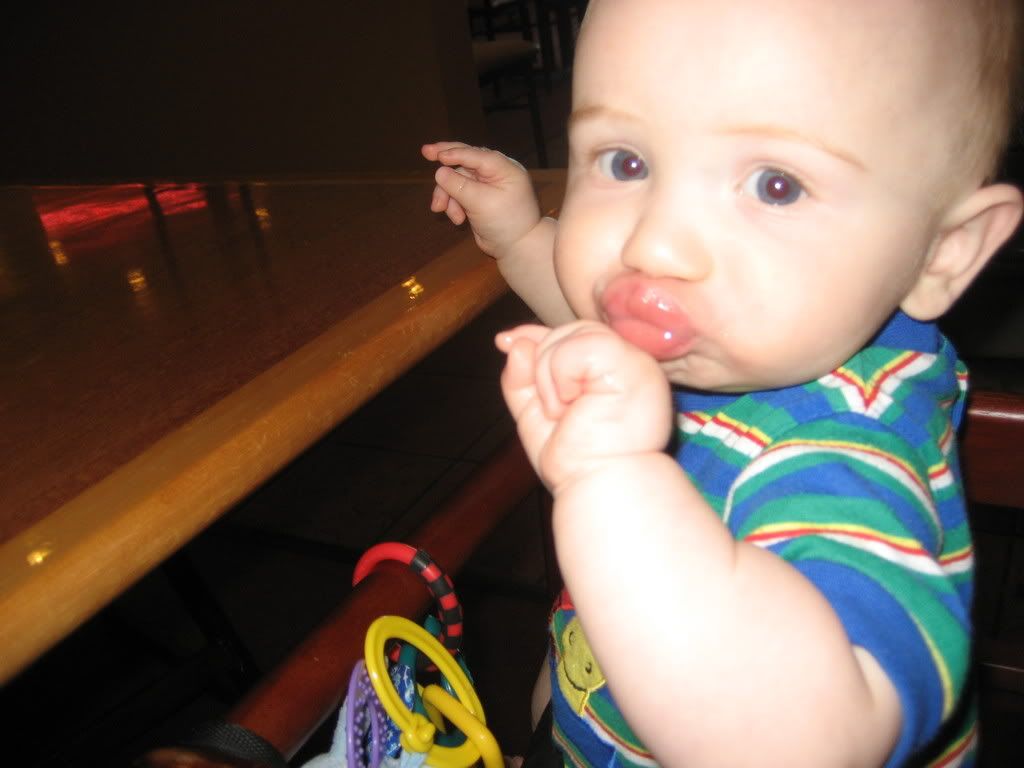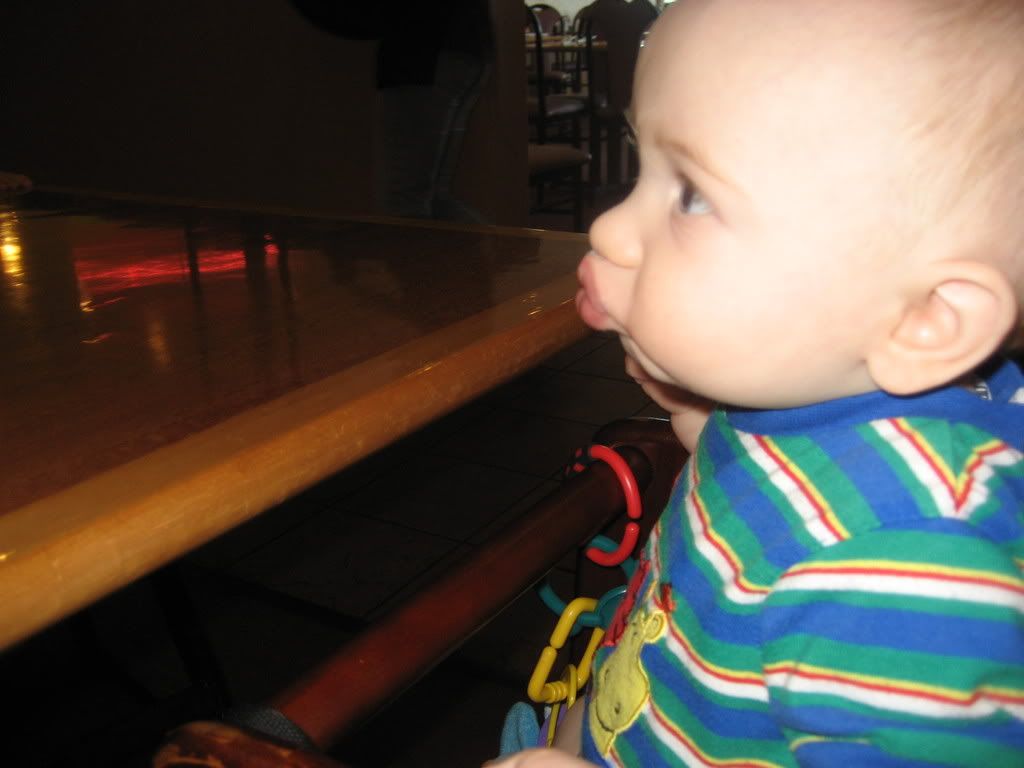 I am now taking Austin to the Public Library for "Bouncing Babies" Storytime on Tuesdays. It was a culture-shock at first, especially since he does not go to daycare, but he's slowly warming up and having fun!
Austin is doing so well at eating his babyfood! Gobbling down a 2.5 oz jar within minutes. So far he has loved
everything
we have offered him except for the peas. His favorites are Sweet Potatoes, Green beans, Apples & Pears.
In a week or so we will be taking Austin to the Texas State Fair for the 1st time! Hmmmmm. . .Fried Oreos, fried twinkies, Fletchers Corn Dogs. . . Delish! :-) [For mommy & daddy's consumption only!!!] Also in a couple of weeks we will be going to Arizona for the Susan G. Komen Race For The Cure! We can't wait to see everyone!!